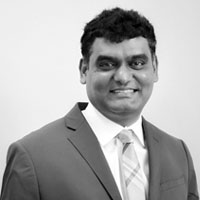 Sridhar Patibandla ("Sri")
VICE PRESIDENT
Sridhar Patibandla is a successful entrepreneur who owns and operates several IT and real-estate businesses. He lives and leads by a simple idea: invest back in the business to make the company grow big. It is his strategy of investing in the right vision and team that has given new heights to several of his initiatives both in real-estate and IT business.
With his extensive experience working with Engineering Companies, City Permitting process, Line of Credit and Banks, Sri has already built a decent portfolio into Real Estate investments. From Single Family Homes in Houston Heights to a 75 Unit Multi-Family in Sealy, Sri made sure that the projects are finished on time with cost-effective budget.
Sri has also bought considerable acreage of land in Texas in strategic locations and planning the development in several of the land parcels (157 Acres in Sealy, 72 Acres in Sealy, 100 Acres in Simonton, 224 Acres in Sealy, 16 Acres in Fulshear, 20 Acres in Fulshear, 227 Acres in Fulshear, 95 Acres in Fulshear, 76 Acres in Leander & 333 Acres in Jarrell and, 18 Acres in Manvel).
 
Sri aspires to bringing technology into real-estate and build state-of-the-art projects and reaching $1 Billion Dollar mark investments for HighTen Capital by the end of 2023.
Sri is involved in leadership development and social responsibility. Apart from this, in his luxurious time he likes to take a nice jog and play cricket.