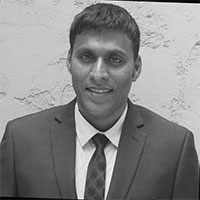 Srinivasa Gogineni ("Srini")
PRESIDENT
Srinivasa Gogineni is a successful serial entrepreneur with multiple businesses in real estate and automotive sectors to his credit. He is also a real estate agent, a partner in broker company and operates Prime Gain Realty. He is the founder of Meritas Builders, LLC which was incorporated in 2012 and is based out of Houston, Texas. Meritas Builders has been highly active in Houston over the last three years acquiring 8 Residential, Commercial and Mixed-use land development projects in the Greater Houston area.
Since its inception, Meritas Builders has also been operating as a construction company in Hyderabad, India which is a premier Information Technology [IT] city hub in India.
Srini is also the owner of Hurricane Auto, LLC in Houston, Texas which he owns and operates for over 18 years in one of the busiest highway corridors, I-45 South in Houston.
In addition, Srini owns and operates an IT consulting firm Megha Soft Technologies for over 20 years, providing highly technical opportunities to more than 100 employees in Houston and around the county over that span. He is also an avid sportsman and competitor and makes the time to participate in sand volleyball, road biking, and half marathons.