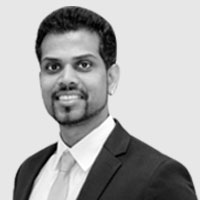 Suresh Katamreddy
Chief Technology Officer
Suresh Katamreddy, one of the founding members and partners in Kastech Software Solutions Group, Houston, Texas comes with extensive experience in the areas of customer relations, streamlining business processes combined with the best technology practices. As a technology leader, he strives for excellence and quality in every initiative and project that he undertakes.
As the Chief Executive Officer, Suresh is responsible for overseeing the operations and strategic planning at HighTen. He brings to the table over a decade long experience as an entrepreneur in IT and real estate. With our Vice President Sridhar Patibandla, Suresh has invested in several real estate ventures and land development projects. He spends most of his time to ensure that our strategy and business plan are being executed at the asset/property level.
 
Suresh's brings with him the right amalgamation of strategy, leadership and operations experience, which aspires him to take strategic and operational performance to greater heights and meet the ROI goals.
 
Suresh holds a master's degree in Electrical and Computer Engineering from the University of Texas San Antonio (UTSA). In his free time, Suresh loves to travel. He has keen interest in sports and plays Tennis and Cricket frequently.